COUNCILMAN
RUSS
GRAHAM
Councilman Graham served on Garwood's Board of Education for four years and is a Garwood's Green Team volunteer. He is a combat Navy veteran of the Vietnam War, serving aboard the USS Joseph Hewes and achieving the rank of Yeoman 2nd Class. Having graduated from Raritan Valley Community College with a degree in Computer Science, Councilman Graham retired from a 27-year career in the HVAC industry. He later ran his own business headquartered in Garwood. He previously served as a substitute teacher at Lincoln School and has lived in Garwood for 30 years with his wife, Julie.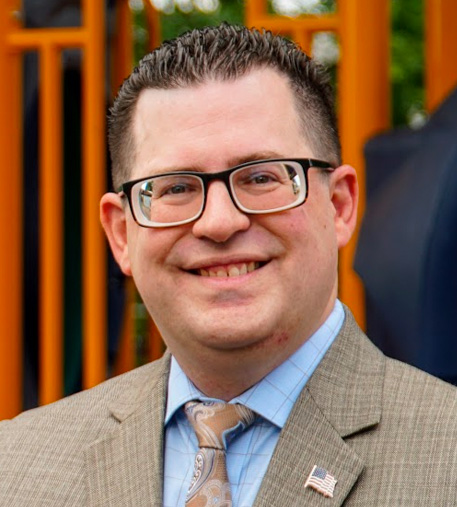 CANDIDATE
VINCENT
KEARNEY
Vincent Kearney was raised in the Township of Union, graduating from Summit's Oratory Preparatory School in 1994 and attending Fairleigh Dickinson University in the mid-1990s. Vincent married Veronica Garcia-Kearney in 2009. Together they chose to move to Garwood in 2009 to be close to Vincent's mother Carol Ann Kearney (who had moved to Garwood a few years prior) and to raise a family. Their twin boys, Anthony and Vincent, are in 1st grade at the Lincoln School this year, enjoy participating in many of the Garwood Recreation activities, and take music and karate lessons locally!
Vincent began his public service career in 1996, working as a 9-1-1 dispatcher for the Union Police Department and volunteering for several years as an Emergency Medical Technician on the town's ambulance squad. Vincent continued this career path by joining the Kean University Police Department in 2000. There he worked up from Dispatch to Patrol to Detective to Officer-In-Charge, where he administered all day-to-day operations of the Department, including budgeting.
In 2016 Vincent transferred to the Union County Sheriff's Office, working in the Court Division and Identification Bureau before his current assignment in the Office's Administrative Unit. There, he works with the Information Technology and Training Units in addition to serving as a Personnel Liaison responsible for coordinating scheduling, payroll, and time control for over 250 Sheriff's Officers and staff.
Vincent has attended numerous training and certification courses over his career as a law enforcement officer. He serves as a Recruit Firearms Instructor for the John H. Stamler Police Academy along with the Sheriff's Office.
Vincent serves as a volunteer on the Garwood Celebrations Committee and is the co-founder of the Garwood LIVE page on Facebook, which has live-streamed meetings of the Mayor & Council since 2018. He also works with his mother Carol on the yearly street fairs sponsored by the Greater Westfield Area Chamber of Commerce, including (of course) Garwood Rocks, where he handles online promotions and social media for the events and serving as master of ceremonies.
Vincent spends every other minute he can with his wife Veronica and their twin boys Vinnie and Anthony!