This Letter to the Editor was originally published in the October 25th, 2018 edition of the Westfield Leader. 
My family has resided in Garwood for 70 years. During that time, they renovated our humble home, raised 3 boys, marched in parades, built floats covered in carnations, coached and played baseball, and even worked the concession stand at the James V. Guerriero Memorial Field. We competed in annual town Halloween contests, watched the yearly fireworks at Unami Park, attended Washington, Franklin and Lincoln Schools, played kick-the-can, hide-n-seek and dodgeball on our Willow Avenue 300 block. We roller skated with those silly metal skates attached to our worn sneakers, tightened only with a single roller skate key. We bruised our knees, chipped our front teeth, experienced wins, losses, disappointments and priceless memories. We were baptized, communionized and made our confirmations at St. Anne's Roman Catholic Church. We put playing cards on our bicycle wheel spokes, made forever friendships and overall, lived a life that only storybooks with happy endings made possible…
Looking back, I believe our lives were enchanted in this charming town! A town that was small in size, but huge in spirit. In our minds, our lives were no different than Opie Taylor's life in The Andy Griffith Show, especially with us playing for endless hours, every day, even in the "brook," which separates Willow from Myrtle Avenue.
As a young boy, I recall a passion in this town, shared by everyone. It was a town where the local store owners let Mom pay for items, "some other time" after she would say, "I'll pay you next week when I receive my check." It seems like yesterday when our local pharmacist on Center Street, knew exactly what medications every town member needed, not by looking in a computer, but by seeing their friendly faces when they walked through the door. This is just a small window into my life growing up in Garwood.
"…the Democratic team of Todisco, Ince, and Benoit is without hesitation, the only team I want at the helm of our ship…"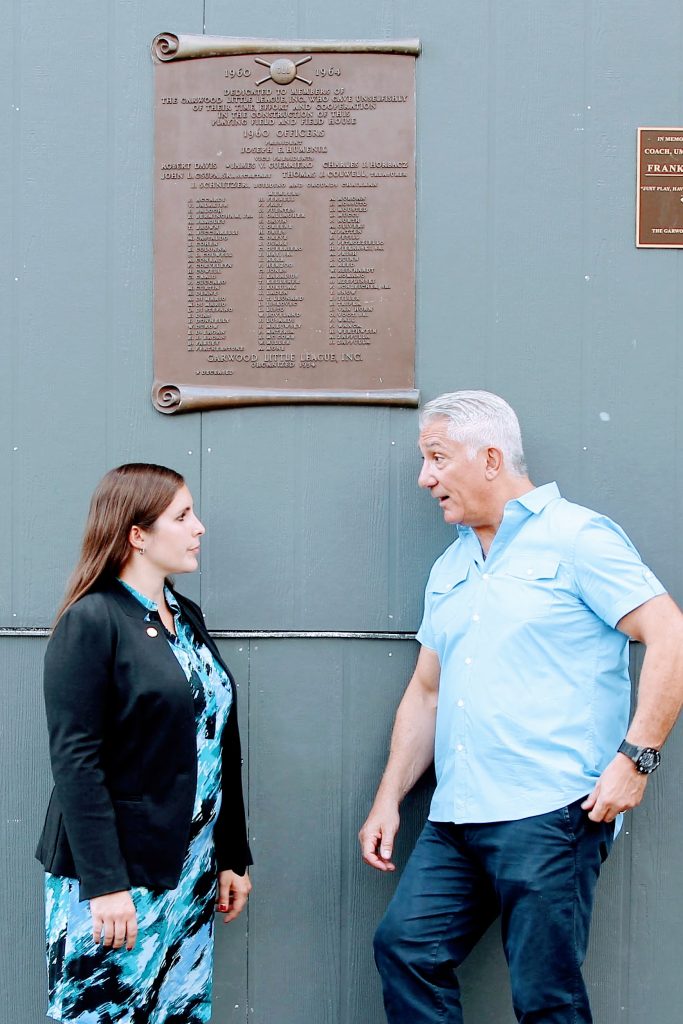 My history in this town doesn't make me better, worse, or more entitled than any other member of this lovely community. What it does is gives me a unique, perspective. Growing up in this town represents a connection to the roots of how life was, and why this town is as special as it is today. Though my experiences are different than others, I view my experience as one that truly defines, what this town once was, how it evolved over the years, what it has now become and what it has the promise to be.
This is why, when I am faced with choosing a leadership team for my town, the Democratic team of Todisco, Ince, and Benoit is without hesitation, the only team I want at the helm of our ship, the ship that I believe will steer us toward an exciting future. My decision for this upcoming election has less to do with me being a Democrat or Republican, and more to do with me aligning myself with a group of individuals who share my hopes, my dreams, my quality of life and my future. For me, it's about the moral compass, character, passion, demeanor and work ethic of this team. It is my belief that what is important to me is also important to them. Most of all, my decision is based on their clear sense of how we can maintain the intimacy and charm of this small town, with allowing it to progress, prosper, and grow, all while not losing its big heart.
I've spent a great deal of time chatting with Sara Todisco and her team, and our discussions always circle back to things we all agree on—our ideals, beliefs, dreams of broadening our view as a community, and a promise to make decisions which will be made in the best interest of every member of this town. I believe that Sara Todisco is the right choice, and the only choice, as our new Mayor. November 6th cannot arrive soon enough because that is when I believe the promise for this town will not only be realized, but it will be accelerated. Sara and her Democratic Team have my faith and my vote!
Richard Colonna
Garwood