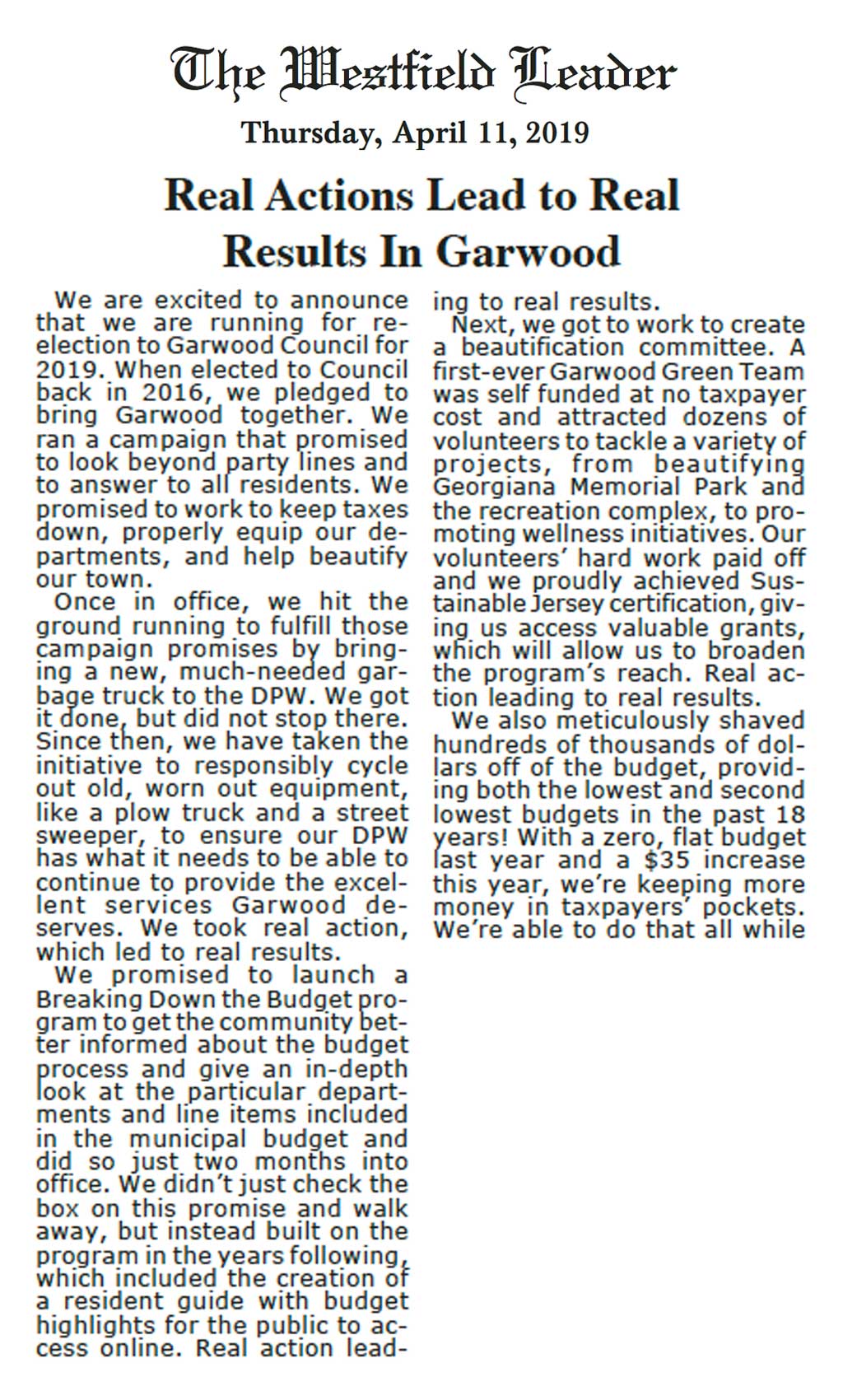 We are excited to announce that we are running for re-election to Garwood Council for 2019. When elected to Council back in 2016, we pledged to bring Garwood together. We ran a campaign that promised to look beyond party lines and to answer to all residents. We promised to work to keep taxes down, properly equip our departments, and help beautify our town.
Once in office, we hit the ground running to fulfill those campaign promises by bringing a new, much-needed garbage truck to the DPW. We got it done, but did not stop there. Since then, we have taken the initiative to responsibly cycle out old, worn out equipment, like a plow truck and a street sweeper, to ensure our DPW has what it needs to be able to continue to provide the excellent services Garwood deserves. We took real action, which led to real results.
We promised to launch a Breaking Down the Budget program to get the community better informed about the budget process and give an in-depth look at the particular departments and line items included in the municipal budget and did so just two months into office. We didn't just check the box on this promise and walk away, but instead built on the program in the years following, which included the creation of a resident guide with budget highlights for the public to access online. Real action leading to real results.
Next, we got to work to create a beautification committee. A first-ever Garwood Green Team was self-funded at no taxpayer cost and attracted dozens of volunteers to tackle a variety of projects, from beautifying Georgiana Memorial Park and the Recreation Complex, to promoting wellness initiatives. Our volunteers' hard work paid off and we proudly achieved Sustainable Jersey certification, giving us access valuable grants, which will allow us to broaden the program's reach. Real action leading to real results.
We also meticulously shaved hundreds of thousands of dollars off of the budget, providing both the lowest and 2nd lowest budgets in the past 18 years! With a zero, flat budget last year and a $35 increase this year, we're keeping more money in taxpayers' pockets. We're able to do that all while making sure the services you deserve are supported. Through grants, shared services, and efficiencies, we worked hard to get the job done when it came time to revitalize Hartman Park. After almost 30 years, this park was revamped with brand-new, special needs-friendly equipment, new benches, and a new basketball court, making it once again a safe and inviting place for the families of Garwood. In the spirit of our pledge to bring Garwood together, we've increased community events, including Garwood's Martin Luther King, Jr. Service Day and Local Government Week's Touch-A-Truck and Bingo Night. Real action leading to real results.
With the addition of Russ Graham to the Council this year, we've been able to accomplish more. Under his leadership, we will be using grants to undergo a rehabilitation to the infrastructure of our Borough Hall to repair cracks that are in urgent need of repair and will complete the finishing touches to the Hartman Park project by adding shading and a new water fountain.
We went to work for Garwood as soon as we were elected, and we haven't stopped working for you since. And while we've made great progress, there is still a lot more to be done. If there's one thing you can count on, it's that we'll do that work. Real actions lead to real results. With your support, we will keep it going!
Jennifer Blumenstock, Councilwoman
Marc Lazarow, Council President
Russ Graham, Councilman